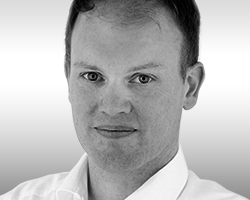 Dr. Oliver Bohl
PAYBACK GmbH
Director Digital Business Development
Dr. Oliver Bohl – Director Digital Business Development Oliver is a digital innovator, growth hacker and intrapreneur with conviction. He is heading the Digital Business Development at PAYBACK, the leading international multi-partner loyalty programme and most powerful multichannel marketing platform worldwide.
There he is responsible for the digitization of business activities as well as for the evaluation and design of innovative services and new business models. He is always looking for inspiration to make the world "a bit more digital" on a daily basis – thus he is also co-heading the digital commerce lab of the BVDW and is an active member of the Location-Based Marketing Association.
Recently, he set up PAYBACKs intrapreneurial lab #PKT., an accelerator for fast-scaling digital business ideas. As a frequent keynote speaker, business angel and academic lecturer, he imparts his profound knowledge in web business and digital marketing. Before joining PAYBACK he was acting as a co-founder of flayr.com and working as a management consultant and R&D manager.
He started his career after studying information technology at Hannover University of Applied Since at the Siemens AG, where he was holding various executive-positions and realized many ITC-projects.
Expert for:
Loyalty & Couponing, Connected Commerce, Location-based Marketing, Payment Solutions