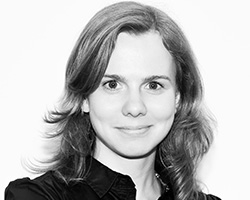 Natalia Karbasova
Hubert Burda Media Holding KG
Digital Assistant to the Publisher Dr. Hubert Burda

Natalia Karbasova is digital innovator at Hubert Burda Media. As Digital Assitant to the Publisher Dr. Hubert Burda, she founded the Burda Hackday as well as the rapid prototyping and product development lab Burda Bootcamp. She's passionate about digital products, coding and design as well as creating a culture of disruptive innovation in established companies. When she's not at work, she's busy learning new programming concepts, participating at hackathons (and occsionally winning them), reading and thinking.
Expert for:
Product road map/Design/Go to market